Titan Track Storage System is a heavy duty, ceiling mounted track system made of corrosion resistant rigid PVC. Titan Tracks stylish appearance and unique design consists of sliding and rotating hooks which allow fast and easy adjustments to hang those "hard to hang" items. The sliding feature of our storage system allows you to slide the hooks to the desired locations to hang and store all of your equipment.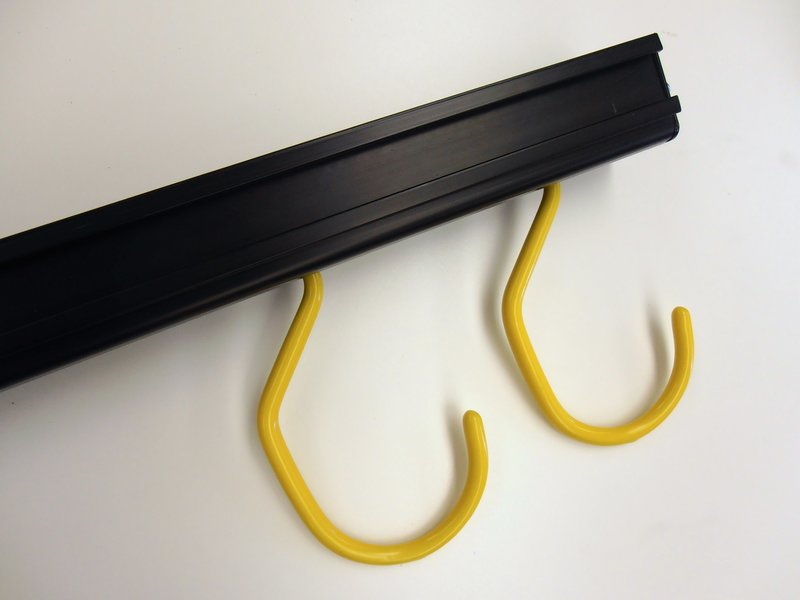 Titan Track is a perfect solution for hanging and storing your bikes to free up floor space in your garage or storage unit. Our track system allows you to hang your bikes and slide them together to make optimal use of space. Alternate the direction of your bikes to get them closer together as shown in the photo above. Freeing up floor space will allow you to park your vehicle under your bicycles when they are not in use or stored during the off-season.
Titan Track works equally as well to hang all of your other gear. Whether you are an athlete, sportsman, golfer, gardener or just need to store those out of season items; Titan Track can help you get organized. Perfect for storing bicycles, lawn and garden equipment or sporting goods. Hang them in your garage, basement, gardening shed, barn, workshop or utility trailer, the options are endless. Don't mess around getting organized, do it today!!!!
The Titan Track system comes fully assembled with mounting hardware. Available in 50" with 5 hooks, 74" with 7 hooks and 98" with 9 hooks. Extra hooks can easily be added to customize our track to fit your needs. Maximum load is 50 pounds per hook. Titan Track is strong, versatile and easy to install. Installation holes are pre-drilled to align with ceiling joists and additional holes can easily be added. Backed by a 10 year warranty!
Titan Track is a . . . . .
• Bike Hanging Storage System
• Lawn and Garden Storage
• Garage Organization
• Garage/Work Shop/Pole Barn/Shed/ Fish House Storage Hangers
• Utility Trailer Organization Rack System
INSTALLATION INSTRUCTIONS
Installing Additional Hooks
1) Remove Screws and End Caps
2) Insert Hooks Assembly into Track

3) Re-Install End Caps and Screws




WARNING :
Must be anchored to ceiling joist, screws need to penetrate ceiling joist a minimum of 1-1/8 inch. Some applications may require longer screws.
DO NOT USE SHEET ROCK ANCHORS

Mounting Holes are predrilled at 16 and 24 inch on center. Additional holes may be drilled if necessary. Tracks may also be cut to a shorter length.
Hay Boguetes de colgar esta a 16 y 24 pulgadas del centro. Puede hacer más boquetes si, los necesita, también puede a cortar los rieles.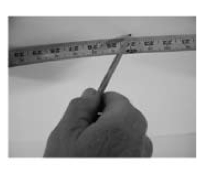 1) locate ceiling joists and mark the locations.
localizar las vigas. Marcar las posicíones de las vigas.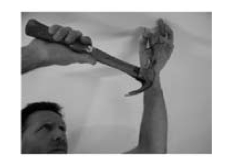 2) Check for joist using a small nail. WARNING: Tracks must be mounted to ceiling joist. DO NOT use sheet rock anchors.
Busque la viga con un calvito. CUIDADO: cuelgue los rieles a las vigas con tornillos, NO USE anclajes de tabla roca.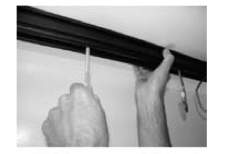 3) Hold track in position and mark hole locations.
Sujete el riel y riel y marque la posición de los boquetes.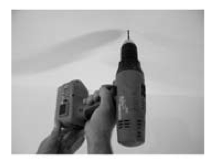 4) Drill small pilot holes with 1/8 inch drill bit.
Taladre boquetes pilotos a 0.125 pulgados.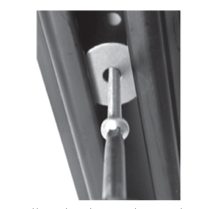 5) Install track using washers and screws.
Instale el riel con arandelas y tornillos.

1) Take axle-to-axle measurement of the bikes you want to hang and take and average. This should be approximately 38-42 inches.
Mida la distancia entre los ejes de cada bicicleta y tome la media. (aproximadamente 38-42 pulgadas)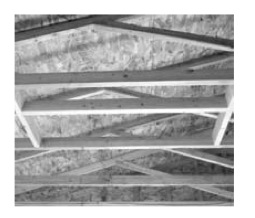 2) If mounting parallel to ceiling joist additional backing may need to be added for proper spacing.
Si se montan paralelos a la viga del techo es posible que necesite respaldo adicional para tener el espaciamiento correcto.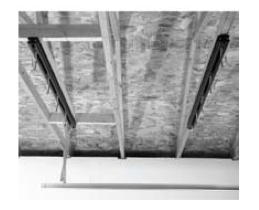 Tracks mounted parallel to the ceiling joist.

Rieles montados paralelos a la viga.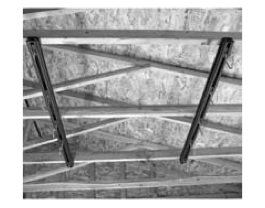 3) Tracks mounted across ceiling joist.
Rieles montados en perpendicular a las vigas.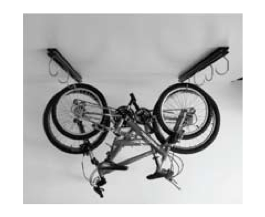 Two tracks may be hung parallel for hanging bikes horizontal
Se puede montar los rieles paralelo para guardar las bicicletas.